I'm tired of going to offices and seeing the same boring interior plants.  The easiest way to create an motivating environment for your employees without spending a lot of money is to invest in interior plants and an interior plant service!  But I beg you, please don't hire a tired interior landscaper that only uses the same Draceanas, Pothos, and Kentia Palms that have been around for the last 30+ years.  I want every office in Orange County to demand a unique interior plant design because indoor plants have come a long way and your office deserves better!  Botanists have been working hard to find interesting plant hybrids and varieties that will grow and thrive inside. Take advantage of this and let us create an environment that will make your employees feel creative, enlivened and look forward to coming to work!  Here are a few of my favorite unique interior plants for your office: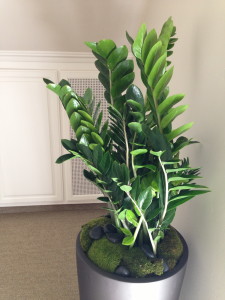 Zamioculcas zamiifolia aka ZZ Plant ~ Probably my favorite plant for it's versatility, ease of care and interesting form.  The ZZ Plant has dark green, very glossy succulent leaves and stems.  It can handle moderate to bright light and does fantastic in an office!  ZZ Plants can grow as large as 3-4 feet and as small as 6-12 inches.  It's unique form and beautiful foliage will definitely catch your eye and let your clients know that you are a unique company worthy of their business.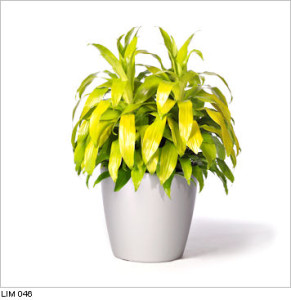 Draceana 'Limelight' ~ A new introduction for the interior plant world is this beautiful and stunning Draceana with lime-green foliage!  The color stands out and will brighten any room especially when it's pared with other darker green plants.  The chartreuse leaves pair perfectly with modern design and it's definitely one of the must-have plants today!
Draceana limelight usually comes as small as 8 inches to as tall as 5 feet.  It likes medium to bright light and moderate to low water.  It's a great alternative to the common Draceana craigii plant.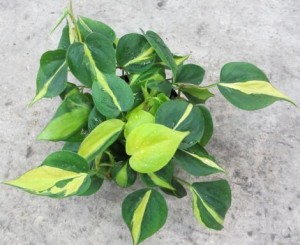 Philodendron Cordatum 'Brazil' ~ Since lime-green is such a popular color right now, I have to mention one of my favorite hanging plants, Cordatum 'Brazil'.  This plant has heart-shaped leaves with a stripe of lime-green through each leaf in a random pattern.  This plant is a perfect alternative for the very common Philodendron Pothos hanging plant.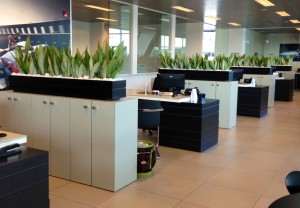 Sanseveria 'Moonshine' aka Snake Plant ~ These spiky plants are perfect your your modern office decor.  They can handle low to medium light and are easy to care for.  I absolutely love ALL of the different Sanseveria varieties, some as small as 4 inches and others as tall as 4 feet.  This one, Sanseveria 'Moonshine', caught my eye because of it's stunning grey-green foliage.  The new foliage emerges more grey and the mature foliage is more green, each with a dark-green stripe along the edge.   It's grows only 2 feet tall and has thicker leaves than it's cousins.  Overwatering is the kiss of death.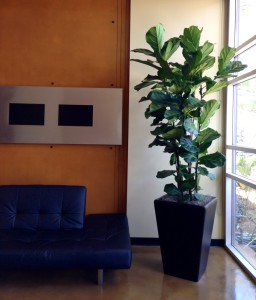 Ficus lyrata aka Fiddle Leaf Fig ~ This spectacular plant has huge dark green, glossy leaves that are fiddle shaped and about 12 inches long.  It's a moderately fast grower and loves bright light.  Place it near a window and it will become a wonderful character in you office.  It makes a great specimen plant as a stand alone, but also can be purchased as small as 3-4 feet.
Ficus lyrata plants come in two forms.  The picture you see to the left is called a 'Column Form'.  This type has leaves that start at the very bottom of the stem and they usually go straight up in a column shape.  The other form is called a 'Standard'.  This type usually has a trunk and looks more like a tree with a wider group of leaves all at the top of the plant.  Both forms are beautiful depending on the space you are looking to fill.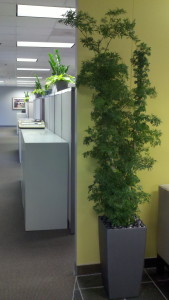 Ming Aralia ~ We have been experimenting with this incredibly unique interior plant and have had good luck!  Ming Aralias have delicate fern-like leaves that remind me of an evergreen in a forest, but only a miniature version of this.  They are lush and beautiful and thrive in bright indirect light to moderate office light.  They are usually between 2 feet to 7 feet tall and grow as a narrow column.
The only draw-back to this spectacular plant is that they are not always available.  My plant vendors definitely have these in abundance at times or not at all.  So, my recommendation is to buy them up when you see them!
There are many more interesting plants to choose from that would make your office noteworthy.  Creative designs are what I live for!  If you need a professional opinion and are in the Orange County area, please call us today!  (949) 354-3344  We would love to make your environment somewhere you love to be!