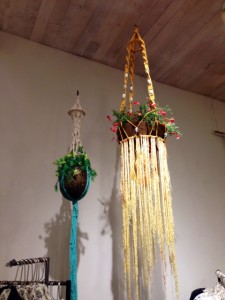 Writing about 60's Style Houseplants in my last article, I got a lot of positive feedback.  This inspired me to dig a little deeper.  The 60's and early 70's undoubtedly had a hippy sensibility.  And quintessential hippy decor would have to be MACRAME!  It's been blowing up on Pinterest and due for a revival!
I mentioned this to my Mom last week when we were doing our weekly mall walk and she didn't believe me.  She said that there was no way she would ever use macrame in her house again.  As we were almost at the end of our walk, we glanced into the window of a store, and there was macrame hanging everywhere!  I was thrilled to see that I was not alone in the Modern Macrame come-back!
One of the coolest Modern Macrame designs I've seen, is this DIY Macrame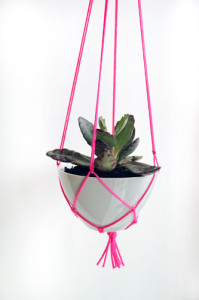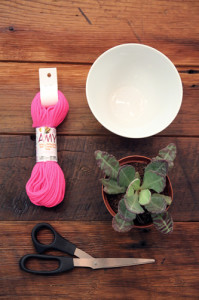 hanging pot done with untraditional brightly colored string on Refinery29's post about DIY Gifts for under $15.  I think it's clever and so cute with the tea cup size white vessel, florescent pink string and succulent!  This would definitely fit into a Modern Home Decor without feeling overly hippy.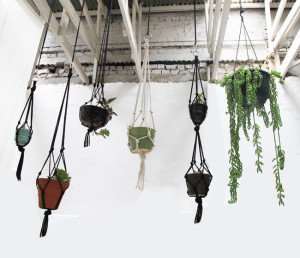 Another inspiring Modern Macrame idea was found on this Skinny Laminx post.  She uses succulents to create a beautiful grouping of macrame planters.  I like the sizes and colors she sticks to.  Black, white and green and more small macrame vessels.  It almost reminds me of a hanging sculpture wall, similar to the living walls that have become so popular today.  I bet a small vessel macrame wall would look pretty awesome against a white wall in your home!
Another non-traditional use of Macrame for your home is this small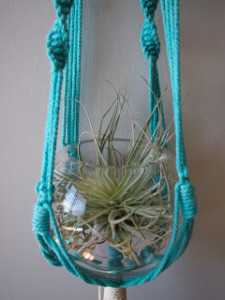 tillandsia terrarium cupped in a bold turquoise macrame hanger found on Ouch Flower's blog.  I love the color used and with the tillandsia it really reminds me of the coast.  Bold color also makes this feel modern rather than the traditional natural colors commonly used in the 60's and 70's.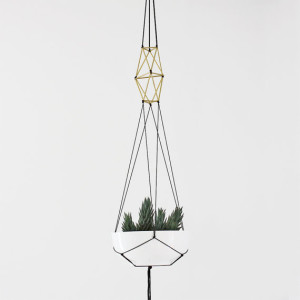 And lastly, if you're not the crafty type or you just don't have the time there are plenty of Macrame sources on the web.  Doing a quick google or amazon search you will be overwhelmed by choices.  But if you are looking for something more obscure, check out this Etsy page: HRUSKAA.  They have a lot of VERY MODERN MACRAME planters that you can order and have shipped directly to your doorstep.  You can have an instant Modern Macrame planter that will add sculpture and style to your home in an instant.  I think my Mom might even agree!