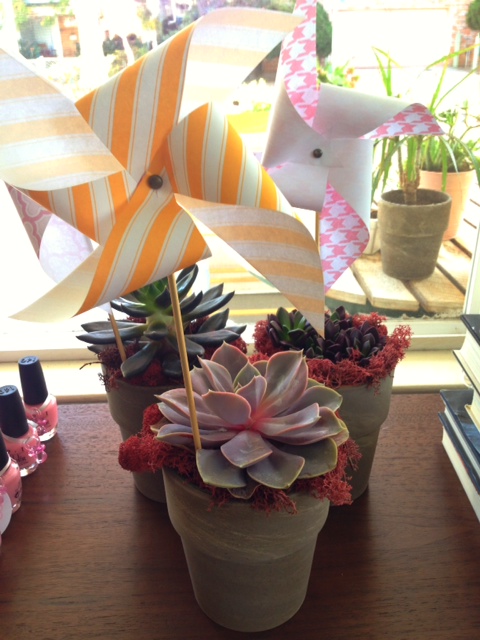 Working with interior plants, my friends assume that I must also be a florist.  This is flattering, but not the case.  Floristry is an exquisite profession that I have not mastered (but definitely something I may peruse in the future).
Anyways, when a best friend asked me to help decorate for her baby shower I was thrilled to put my creative touch on a room filled with lots of pink and girliness.   Although, since I was not using cut flowers as center pieces, I turned to my trusty succulent plants!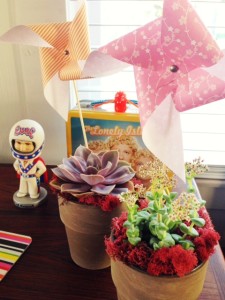 As a busy and practical person, I saw one of the main advantages of using succulents as center pieces was their resiliency.  Succulents could be planted well in advance and would sit pretty for weeks or months before the event!  This is not the case with cut flowers.  Succulents were obviously the best answer!
I used grey clay pots that I had in my garage. Rose-colored reindeer moss to add a pop of soft girliness and of course pinwheels to keep in the baby shower theme.  Making the pinwheels was something I was also able to do in advance.  I used a great step by step website to create these adorable decorations.
Who knows, maybe ENVIRONMENTS BY MIKO needs to add party decorating to it's list of services.  An Interior Plant Service Business with Interior Party Decor Services!  I like the sound of it!
Other fun decor ideas we incorporated into the party, as well as a pic of the Mama-to-be shown below: